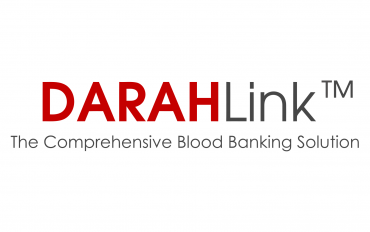 Read more +
DARAHLink
The blood transfusion solution since 1998 with continuous software upgrading relevant to the latest IT technologies and the demands for safe and effective blood transfusion management.
Read more +
WELL DOCUMENTED
Latest HTML5/CSS3 technologies and the continuous upgrading of software has enhanced the DARAHLink for donor-patient traceability functionality based on accepted guidelines.
Read more +
GREAT SUPPORT
Our well trained and experienced team can be reached by phone or internet to provide prompt assistance and support service to our customers for both West & East Malaysia.
Compatibility testing
Patient transfusion record
ABO Rh and extended phenotype
Previous detected antibodies
Blood component issued
Inventory Management
Online request management
Efficient stock management
FIFO management
Procurement production link
Procurement
Mobile donation schedule
Donor acceptance record
Registration/sample tally
Deferral status

Production
Product code identification
Safe product only final label
Complete production statistics
Released product records
THE DARAHLink SYSTEM IS COMPREHENSIVE AND CUSTOMIZABLE TO MEET THE COMPLETE VEIN TO VEIN FUNCTIONALITY NEEDS OF A TRANSFUSION SET UP
Suitable for Small, Medium & Large Hospitals
CUSTOMER SUPPORT
Prompt respond from our experienced support team
HIGHLY CUSTOMIZABLE
Customizable software to fit into user needs
DOCUMENTATION
Documentation features for record management
RESPONSIVE
We have responsive support.
EXPERIENCED
16 years of experience in transfusion application
MULTILANGUAGE
Selection for language of choice
HTML5 & CSS3
Built with latest HTML5 and CSS3.
USER FRIENDLY
Simple intuitive operation steps
our working process in 3 steps
Organized and dedicated!
planning & strategy
upon knowing your problems, professionals will research for the most effective and most efficient solution
design & develop
a series of easy to comprehend and complete end-to-end solutions are created, on time and on budget
test & deliver
solution with the best tangible result is chosen, ensuring smooth operation and provide outstanding after service
DARAHLink BloodBanking Essential